Duta Firza has been a trading business circa 1978 for instrumentations and control systems. It is essentially the core of this company, as trading was the only line of business that Duta Firza worked within at the beginning.
This might show how Duta Firza's trading division is the most experienced and practical, with years of experience. We are proud to recognize that we have worked by working with distributors.
Ashcroft is a company based in Connecticut, USA that produces pressure and temperature instrumentations. Duta Firza was appointed executive distributor of the products in 2010. In response to the local market needs and to the need of bringing technology closer to serve the market.
Duta Firza opened a manufacturing facility in West Jakarta to produce the pressure and temperature gauges in the country. In this way, Duta Firza has made it more cost-effective and readily available for immediate local customers.
Download PDF :
New Ashcroft Ordering Handbook OH-2 is now available !!!
Our Products
Yamari Industries is an exclusive distributor of temperature instrumentations based in Japan, and in which Duta Firza has been trading with. They provide various types of measurement instruments such as petrochemical and semi-conductors. In trading with this company, Duta Firza is able to keep up with the technological advacements in order to make the process of collecting and finding oil, made simpler and more efficient.
As on today YAMARI has expanded into the reaches of the globe, with factories and offices in Singapore, Korea and India, representative offices in China, Taiwan and many other countries. Our company is also certified under ISO 9001, ISO 14001 & ISO 18001 and has been pursuing green procurement standards for preventing pollution in our global environment.
Guide to Yamari Industries.pdf
Our Products
Autrol Smart Transmitter products, manufactured by Duon System, harmonize with all instruments at the field. We have been finding a way to have the best measurement solution in world instruments market.
Duon System was established on May in 1989. Since then, we had successfully performed for DSC(Distribution Control System) with more than 70 projects. However, we have focused on developing Smart type, which is core part of field instruments.: Differential, Gauge, Absolute, Temperature and GWR(Guided Wave Radar) transmitters with our own technology as named Autrol.
Autrol Smart Transmitter has performed all sorts of applications at more than 45 countries successfully with high class of international quality systems in field along with universal protocol, international certificates and regulations. The results have satisfied End-users and we are very proud of both Duon System and Korea instrument market because no one had a result like Duon System for Autrol Smart Transmitter in Korea.
Our Products
SAMIL is a various level and flow elements manufacturing company that bring technology and engineering together to provide high quality products to customers in the petrochemical, Oil and Gas refinery, Waste water disposal facility, Nuclear/Thermoelectric power plant, etc.
Our Products
Qublock Technology has proven expertise for providing custom-made valve solutions as well as standard products with innovative and advanced technology for perfect flow control, ease of operation, simple in-line maintenance, and long service life.
Based on strict Japanese technology and know-how Qublock engineers have gained through years of experience and study, Qublock focuses on severe applications requiring solutions to high temperature, high pressure, high-cavitations, high-cycle, corrosive and erosive situations with a tight shutoff and low emission.
With an international presence, Qublock combine our technical know-how and engineering expertise under the Head Quarter including of technical design, quality control and sales operation in Japan and the main production basement and sales branch operation in South Korea.
As a leader in valve technology, Qublock Technology provides prompt and clear solutions to any difficulties that a customer may face in their plant.
Our Products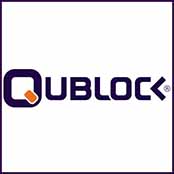 Flowbus Corporation was founded in 2004 with the aim of manufacturing reliable heavy duty valve actuators and providing innovative valve automation packages to the global energy and process industries.
Since then we have accumulated an excellent reputation with an impressive track record in critical applications within offshore and onshore like oil and gas, power generation, chemical, desalination and environment applications.
From feasibility studies, engineering, designing and manufacturing to maintenance, Flowbus Corporation is recognized as a leader in the valve automation market creating enhanced value for our customers.
Major business areas include design and manufacturing of industrial valve actuators. Also the fabrication of valve control and safety systems enabling our customers to improve their performance while lowering total installed cost.
Flowbus Corporation aims to continue delivering high quality products and services to our customers worldwide.
Our Products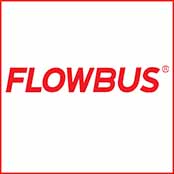 Sterling Sensors is a market leader and has over 45 years' experience in the manufacture of bespoke temperature instrumentation. We specialise in the production of thermocouples, RTDs, hand held probes and other temperature sensors. We also offer a calibration service and all calibrations are supplied with UKAS traceable certification.
Our technical engineers are vastly experienced in solving customer application problems using our modern facilities and on-site machine shop. We have the ability to manufacture bespoke solutions to meet with the requirements of some of the most complex measurement and control applications. Such expertise allows us to compete in a vast range of markets including aerospace, food, pharmaceuticals, energy, plastics and metallurgy, some of the most stringent industries in manufacturing. We are an ISO 9001:2008 registered company and our quality management is audited on a yearly basis by IMS.
Our Products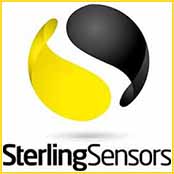 Rotork Instruments are specialist manufacturers of products for flow control, pressure control, flow measurement and pressure measurement. Our solutions are trusted wherever there is a need for high precision and reliability, including pharmaceutical, biomedical, oil & gas and manufacturing industries.
We have production facilities throughout the world, complemented by a large network of distribution and support centres.
Rotork Instruments is proud to offer a diverse range of products which serve many different duties in a wide variety of applications. We also offer a factory customisation service, to create one-off units to meet specific needs.
Our Products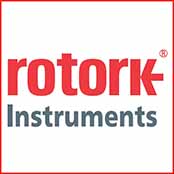 Air Hydro Pumps Incorporated was formed in California to specialize in the supply of air driven high pressure hydraulic pumps and power units to customers located throughout North and Central America. Our products are well proven and are manufactured right here in the USA. They are available on short delivery and competitively priced. They have been developed for and are mainly used for pressure testing however they can also be used for operating bolt tensioners, hydraulic jacks and cylinders.
They especially come in to their own whenever hydraulic power is required on site in inaccessible places. Being air powered they can be used in fire hazardous areas without the need for expensive flame proofing. Here at Air Hydro Pumps Incorporated our goals are simple, we aim to supply reliable, fit for purpose products on time and at a reasonable cost.
Our Products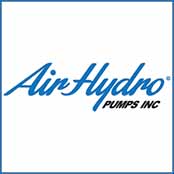 Only recently has Duta Firza become a manufacturer for pressure and temperature instrumentations. Working together with ASHCROFT, the facility located in Daan Mogot, West Jakarta, is striving to fulfill the high demands of these instrumentations.
Not only does it speed up the process of transportation, but it provides the fact that these instrumentations, based on a design and quality assurace system made by an American company, are indeed made 100% locally in Indonesia. Duta Firza is aiming to satisfy customers this way.
PT Duta Firza Technologies (Duta Firza), was appointed in 2010 to grow sales in Indonesia. One important factor in the success of competing in this region, is the need for quick delivery and readily available stock, as well as meeting governmental requirements for local content.
Ashcroft and Duta Firza partnered to set up a local assembly operation in Jakarta Barat to assemble the Ashcroft 1279 Duragauge pressure gauge - a staple product in the oil and gas industry.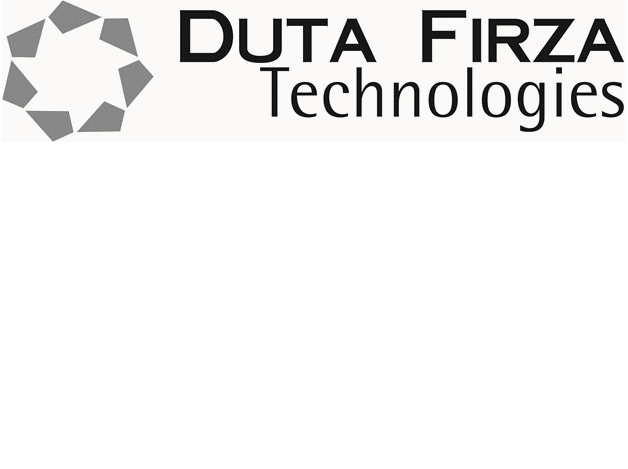 Special Projects come as an additional division to our company.
Site Location :
Kota Makassar | Jl. Lantebung | Kec.Tamalanrea, 30 Minute from Makasar City
Total Area : 10 Ha.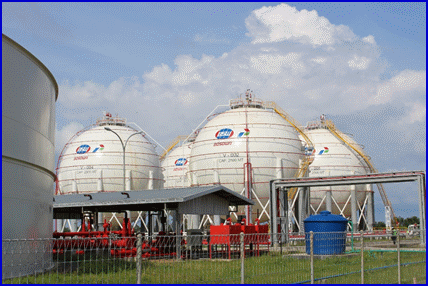 Special Projects Division:
Awarded in 2010 as a BOO Contracts with Pertamina

Project Value is USD 80m

Contract Period of 10 Years

Capacity 10,000MT
Facilities including :
Onshore: tanks, filling stations and offices

Offshore: Jetty, 6km subsea pipeline
Status: In operation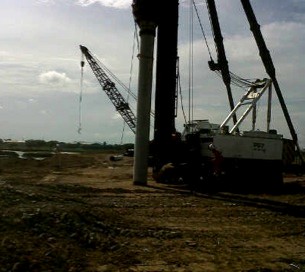 Expansion New Business Related to Energy – Special Projects
Petrochemical

CNG Facilities

Power Plant
Penetrating Core Competencies
EPC

Trading

Upstream
Expansion Planning
Petrochemical Plant with LG International in Papua utilising gas from BP Tangguh with feed gas amounting 90mmcfd

15MW Gas fired Power Plant in East Kalimantan

CNG Facilities in Central Kalimantan storing gas amounting 4mmcfd

Acquiring another upstream oil and gas fields
Petrochemical Project
Methanol Project

Capacity: Methanol 1,000,000 t/y (3,000 t/d)

Feedstock: Natural Gas (appox.91MMSCFD)

Budget: U$ 1,200 ~ 1,300 mil.

Construction Period: 36 months

Financing: Equity + Project Financing
EPC Penetration
Upstream Projects
Tangguh Project in Bintuni Papua for development of train 3 and 4 LNG Plant

Masella Block for FPSO and offshore facilities

Conoco Phillips

Chevron Makassar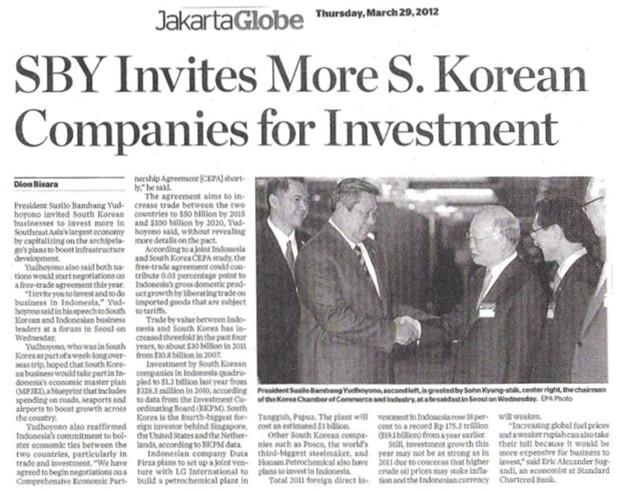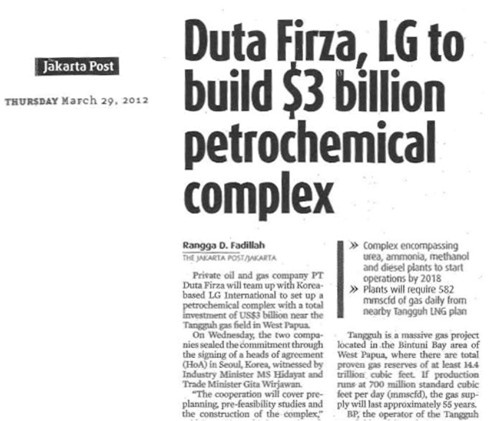 As an EPC contractor as well, Duta Firza has been delivering EPC projects which can date back to 1993. EPC projects were conducted and has been completed in certain regions of Indonesia, such as Makassar, Kalimantan, Surabaya, and Bali.
The EPC division would consist of two categories; engineering and project management. Duta Firza has delivered contracts with large and major oil and gas companies such as Pertamina, Shell, and Indonesia Bulk Terminal.
A contract with PT. Shell Indonesia of 1 year, requires the construction of a tank farm which then indicates the needs of construction of tanks of different sizes as well as the foundations and drainage systems that must go with it.
In 1993, Duta Firza delivered an EPC contract with PERTAMINA, lasting for 3 years and was an EPC of an oil transit terminal in Amuk, Bali. This contract required Duta Firza to expand the needs of the client within this contract, which then includes an EPC for civil works (such as preparing the land, mooring the dolphins, supporting facilities, etc), an EPC for mechanical works (such as diesal storage tanks, petrol storage tanks, product pump stations, etc) and an EPC for electrical instrumentation and automation works.
In 2013, through PT GPS, Duta Firza was awarded for the Provision of topsides EPC for Bukit Tua FPSO projects. The project enriched Duta Firza's portfolio and strengthened full EPC capabilities in advanced fabrication technologies.
In this way, the EPC division of Duta Firza needs to be divided into two categories, in order to effectively divide the tasks and carry out the contracts with professionalism. The engineering team focuses on the design and process of the materials and facilities needed for the EPC, and thereby includes all aspects; mechanical, civil, and electrical. The project management team focuses solely on the planning, scheduling, cost control and documenting of the EPC.
Construction of Berthing Facility and Jetty Piping, Pulau Laut Oil Terminal for PT. Indonesia Bulk Terminal 2009 – 2010
Project Owner : PT Indonesian Bulk Terminal (IBT)

Project Values : USD 15m

Project Duration: ± 1 years

Project Vendor : PT Intimarindo Primacon - PT Duta Firza Consortium
Scope of Work : To Provide Engineering, Procurement, and Construction of Berthing Facility and Jetty piping, which includes of :
Construction of Berthing Facility :
1 unit Jetty Loading plat form with size 15m x 30m

2 unit Breasthing Dolphin with size 9m x 10m x 2m

4 unit Mooring Dolphin with size 7m x 7m x 2m
Construction of Jetty piping: Piping construction started from battery limit to Loading Platform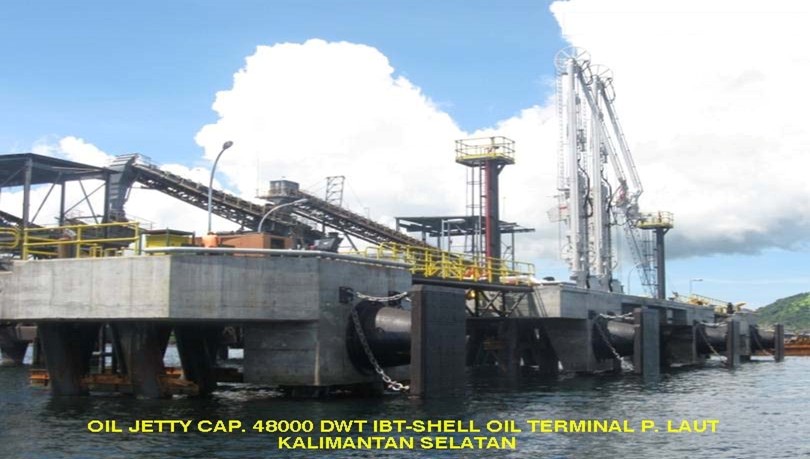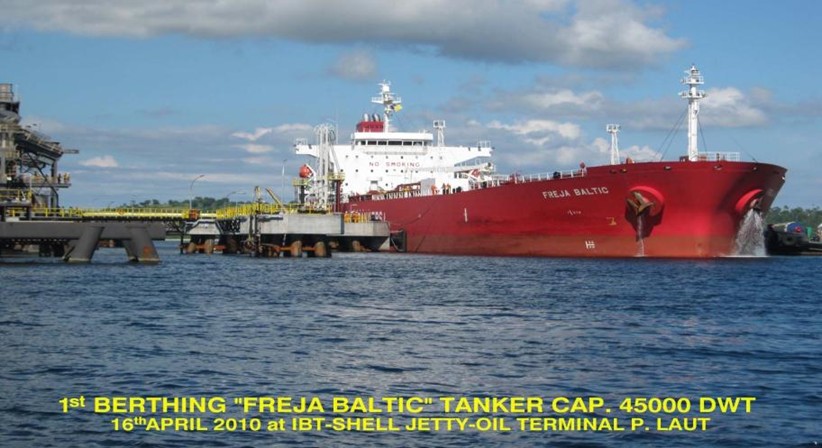 Additional Scope of Work to the contract for Construction of Tank Farm, Tank Foundation and Tank Construction for Gresik Terminal, Surabaya (Package 1) 2008 - 2009
Project Owner : PT SHELL Indonesia

Project Values : USD 5m

Project Duration: ± 6 month

Project Vendor : PT Duta Firza - PT Intimarindo Primacon - PT Bangun Cipta Kontraktor Consortium

Scope of Work :

Gravel filing, sub base, HDPE membrane etc. in Tank Farm.

Construction of External and intermediate bundwalls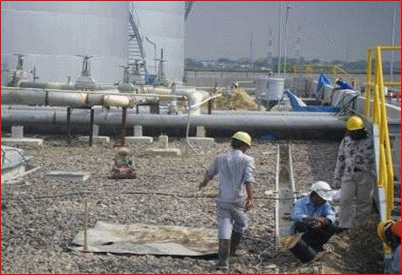 Construction of Tank Farm, Tank Foundation and Tank Construction for Gresik Terminal, Surabaya (Package 1) 2008 – 2009
Project Owner : PT SHELL Indonesia

Project Values : IDR 57b

Project Duration: ± 1 years

Project Vendor : PT Duta Firza - PT Intimarindo Primacon - PT Bangun Cipta Kontraktor Consortium

Scope Of Work : Construction of 6 units of 5,000m3 cap tanks, Construction of 2 units of 1,000m3 cap tanks, and laying down tank foundations and drainage system
To Provide Engineering, Procurement, Construction and Commissioning of six (6) numbers of 5 kT Vertical Storage Tanks which includes, but not limited to the following:
Detailed Engineering Design inclusive of all calculations, meeting all specifications as required by company

Detailed Construction Drawings

Supply of all material for completion of the work scope

Construct and commission all facilities :
Carry out construction of tank farm, tank foundations, bund walls and associated civil and structural works as per detailed design by EPCM consultant

Carry out all required testing and verification services to ensure compliance to all design codes

Provision of as-built drawings and documentation
The dimension of Six (6) numbers of 5 kT Vertical Storage Tanks, are :
3 gas oil tank with size : 23,2 Ø x 15,0 m Ht (type of tank : column supported fixed cone roof tank)

3 ULG tank with size : 23,2 Ø x 15,0 m Ht (type of tank : column supported fixed cone roof tank)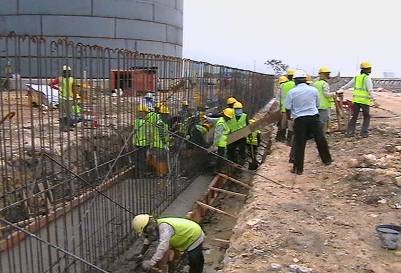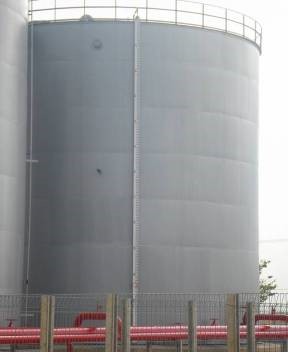 1x1000 MT LPG Tank Construction Project in Labuhan Amuk-Bali 1995 – 1997
Scope of Work : Detail Engineering, Procurement, and Construction

Project Owner : PERTAMINA UPPDN V Surabaya

Project Values : Rp 3b + USD 1.7m

Project Duration: ± 2 years

Project Vendor : Inti Duta
The dimension of 1x1000MT LPG Tank, is :
ASME Sec VIII, Div 2 : ID = 17,03 m and t = 46 mm

8 Column diameter 24", h = 12 m, schd.40 (tmin = 17,5 mm)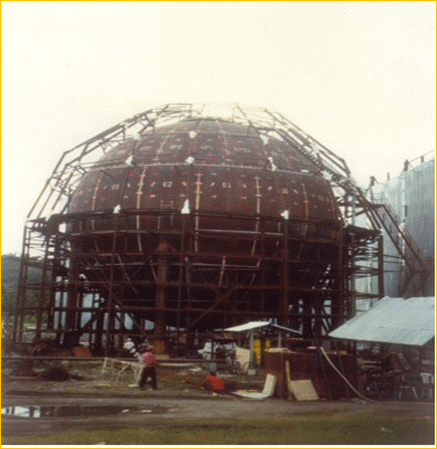 Fuel & LPG Transit Terminal Coonstruction Project in Labuhan Amuk Bali 1993 – 1995
Project purpose : to supply fuel and LPG at Bali, NTT, NTB and maintain the stock purchasing

Scope of Work : Detail Engineering, Procurement, Construction, Start-up & Commissioning

Project Owner : PERTAMINA UPPDN V Surabaya

Project Values : IDR 43b + USD 10m

Project Duration: ± 2,5 years

Project Vendor :Duta Firza-Intimarindo Primacon-Citramuda Nusasarana-Benua Mekanika Consortium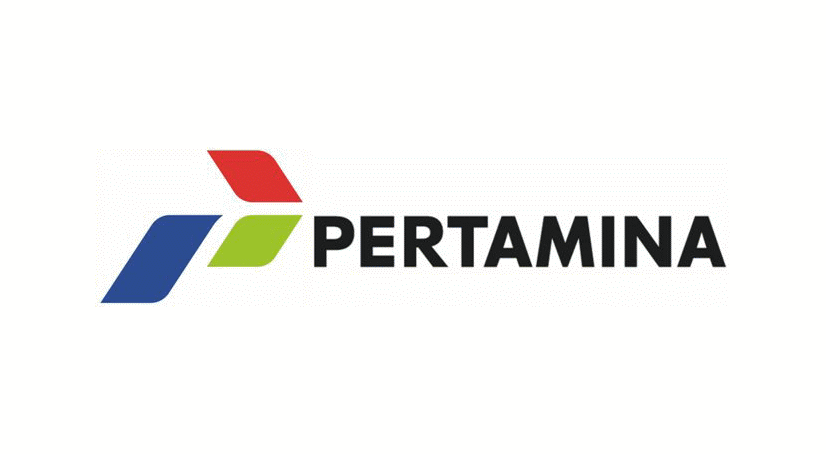 The Exploration & Production (E&P) division manages the upstream oil and gas. Our most prominent contract recently, has been with Pertamina. Our main E&P Projects took place in Kalimantan, Bangkudulis (KSO) and Bunyu Tapa (KSO).
Bunyu Tapa KSO – North Kalimantan
Bunyu Tapa Located in North Kalimantan

Bunyu Area has produced 300 MM BOE since early 1900's

Current production on the island is approximately 6,000 BOPD and 10-12 MMSCFD

Initial well production rates anticipated to be 1-3 MMSCFD, 30-50 BOPD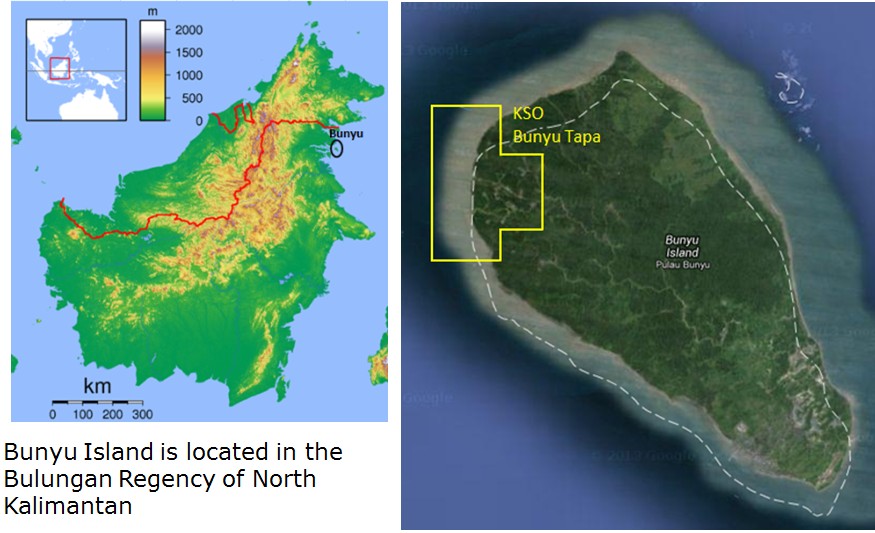 Bangkudulis KSO – East Kalimantan
Located in East Kalimantan

Recoverable oil reserves is 20m bpo

More than 80bscf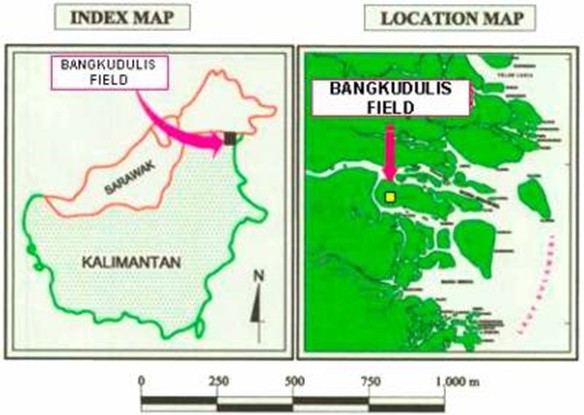 Duta Firza has provided computer equipment (software and hardware) in the oil and gas market. Providing computer services does not have any direct relevance to the oil and gas industry, however being able to fund and help another oil and gas company would, in hopes, improve relations. In this way, Duta Firza does not only think of securing its future economically and financially, but also by creating close associations with others that can prove to become convenient, in the future.