Ashcroft 1290 Direct Drive Gauge

---
The Ashcroft® 1290 direct drive gauge is ideal on harsh applications exhibiting severe vibration or pulsation effects. The system design eliminates movement wear under high vibration process conditions.
Key Features:
Movementless system (coil)

High shock capability

External dial adjustment

Low volumetric displacement - compatible with mini diaphragm seal
Specifications:
Accuracy: ±0.5% full scale (ASME B40. 100 Grade 2A)

Pressure range: 15 to 2,000 psi

Dial size: 4 1/2

Sensing element / capillary: Inconel X-750 / 304 stainless steel

Socket: 316 stainless steel
The 1290 direct drive gauge is ideal when accuracy and dependability are essential to ensure reliable pressure measurement.
Industrial Market:
Refineries, offshore / Power - Power Plants
Please Contact Us for more detail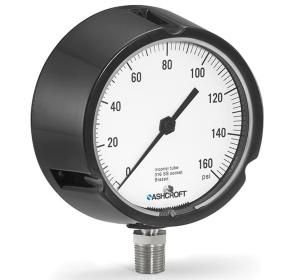 ---