Ashcroft ATE 100 Handheld Calibrator

---
The Ashcroft® ATE-100 handheld calibrator is an exceptional instrument
performing precision measurement of pressure, temperature, current or
voltage. The base unit contains a wide variety of application-specific
firmware as well as the ability to measure both current and voltage inputs.
In addition, this unit has the ability to interface the system with a computer, data acquisition system or dumb terminal via the standard RS232 interface.
Key Features:
Interchangeable modules

Two module bays and one external electrical input

Many standard firmware features

Choice units of measure
Specifications:
Pressure Module Accuracy: ±0.025%, ±0.05% , ±0.7% or ±0.1%

Enclosure: high-impact ABS

Pressure Module Ranges: 0.025" IWC to 10,000 psi

RS232 or RS485 Serial Communication (optional)

Data logging function (Optional)
The ATE-100 handheld calibrator provides precision on applications such as:
Industrial Market:
Test and Measurement

Calibration Laboratories
Please Contact Us for more detail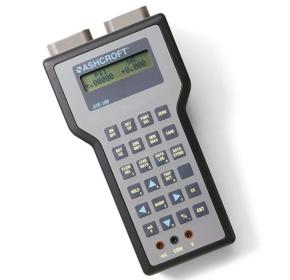 ---