Ashcroft 330 All-Welded Flush Mini Diaphragm Seals

---
The Ashcroft® 330 all-welded flush mini-diaphragm seal or isolation device protect pressure measuring instruments. Used to ensure process compatibility, they are also applied when process media exhibits high temperature, pulsation, and a potential for plugging or freeze-up. An ideal choice for limited space applications.
Key Features:
Compact and lightweight design

All-welded construction

Flush diaphragm; eliminates clogging or process accumulation

Volumetric displacement;
For use with 3 1/2" pressure gauges or smaller (60 to 3,000 psi)

Pressure rated up to 3,000 psi
Specifications:
Process size: 1" NPT male
The 330 all-welded flush mini-diaphragm seals are ideal where corrosion protection and limited-spacing are essential.
Process Market:
Pulp and Paper

Chemical and Petrochemical
Medical & Life Sciences Market:
Pharmaceutical

Food and Beverage
Please Contact Us for more detail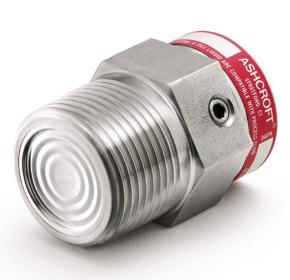 ---